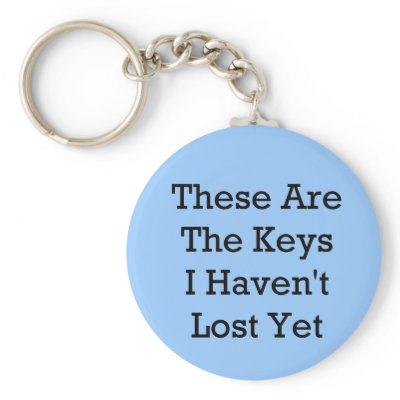 If you live in DC, your floor is probably someone else's ceiling . . .literally (& figuratively). I don't know too many folks who didn't get their start in some sort of multiple dwelling, if they don't currently live in one. When you are living "if these walls could talk" existence, you know more about your neighbors than you probably ever thought you would know. You know that they get up and go to the gym with a religious fervor, hitting the snooze button at least twice at 5:15am and 5:30 before they bound out of the house at 5:50am. You know when things aren't going on the homefront and fighting ensues. You know who the yellers are, who has a few cocktails after work, who doesn't want to share the remote, the list goes on and on. It is the greatest example of voyeurism without ever seeing anything.
Last night, I learned a life lesson from one of my neighbors, I thought would be of value to share with everyone. She lost her house keys. It is one of those experiences that at one time or another will probably happen to everyone. Yet, I realized it is something you don't prepare for and are probably very ill equipped to deal with when it does. At midnight, my doorbell was ringing and the locksmith was performing some type of construction surgery on her door. All of this seemed dramatic and excessive. . . but having no experience with getting locked out, I couldn't advise otherwise.
So after having some time to think about this (and google of course) I'm telling you now what to do then. . .
1. Make extra copies of your keys. Leave them in places other than your house. Do not mark them with any identifying label (i.e. EXTRA HOUSE KEY) This is not profound advice but a few moments of prevention will save hours of reaction. My suggestions for where to leave them:
- Work. You should always be able to get to your job (99% percent of us wish this weren't true)
- Your car. If you lose your house keys, you probably lost your car keys. But it is much easier to get into your car than to get in your house (for a locksmith)
- In your wallet. Just one key can fit in your wallet with no problem. Sure, that mound of keys plus your favorite key chain from Vegas won't, but one key will fit.
- In your locker at the gym.
2. Check and see if you have any windows open.
Never thought you would get to play Batman as an adult. Put your stealthy skills to work.
3. Wait.

Sure, it might be midnight but call a friend and crash at their place and deal with it in the morning. In the morning, you will have access to your landlord and the situation won't seem as dramatic. You will also have a much more patient and reasonable locksmith. The locksmith my neighbor had at midnight seemed shady and knew she pretty much had to pay whatever he said.
4. Call your locksmith.
Think twice before letting the locksmith cut/drill out the lock. An experienced locksmith should be able to open any lock. If they insist they have to and will need to replace the lock, unless the circumstances are dire, call someone else